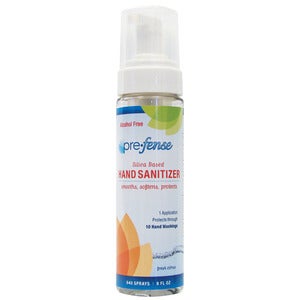 I'm not the biggest germophobe but when I go to Target, Walmart, any grocery stores, thrift stores, etc. I MUST use a sanitizer right after I leave the store because you never know how much germs are on those shopping carts and pretty much anything you touch. Just think about how many of those people actually wash their hands after the bathroom (**shivers**) and how much dirty things they touch throughout the day--YUCK! I use to carry around those mini Bath & Body Works sanitizers but I don't like things too scented or if they smell like alcohol. Also anything with alcohol in the ingredients are very drying for your skin. My skin gets extra extra dry during the cold weather here to the point it gets mad itchy--so I don't need anything that'll dry it out even more.
Prefense came out with a foam alcohol free hand sanitizer. How cool is that? Haha I'm such a dork but I love the fact that it's a foam! :) It offers protection up to 24 hours or 10 hand washings without reapplication. It is safe for kids and 100% poison free. It says it's fresh citrus scent but I really can't smell anything which I really like. Their 1.5oz is $6.99 and 8oz is $16.99 on their website. They also have the wipes for $6.99. Check out their products on their website
The Prefense.
Prefense Advantages and Benefits
Sanitizes skin and nails on contact
Proactively and persistently offers protection from germs for up to 24 hours without reapplication.
Silica complex, AMOSILQ, adheres to skin for 24 hours offering proactive antibacterial barrier wet or dry.
Forms a protective antibacterial barrier on the skin
Once dry, anti-bacterial activity remains effective through 10 hand washings or 24 hours.
Long lasting protection against germs and bacteria
Stops skin to skin transfer of germs
Regular application provides continual antimicrobial protection
Easy, rapid, foam application
Colorless product is invisible on application and will not stain skin or clothing
Water based product is non-flammable
One Spray for all day Prefense !
They sent me the 1.5oz bottle but they are offering the 8oz bottle for my readers--that'll give you 640 applications!! It can last some people up to 2 years! All you have to do is leave a comment below telling me what is your must-have product for the cold weather. Sorry but this giveaway is open to the US Residents only.
**I was sent this product for free in exchange for my honest opinion. All opinions are 100% my own and not influenced in any way.**
I received one or more of the products mentioned above for free using
Tomoson.com
. Regardless, I only recommend products or services I use personally and believe will be good for my readers.
Sponsored by Tomoson.com